About Raymond Douglas Chong: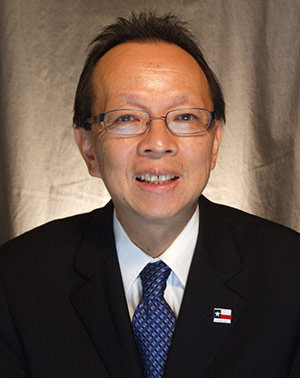 Mister Raymond Douglas Chong is Principal for Generations, his creative enterprise, in Sugar Land, Texas, The Lone Star State. He is a fifth generation American Born Chinese (ABC) from California, The Golden State. He is a writer of stories, composer of poems, and producer of films.
Raymond was born in the heart of Chinatown in The City of Angels (Los Angeles) in California. His growing years were in the remote barrio of Elysian Valley, Frogtown, between Elysian Park and the Los Angeles River, near Downtown. He attended Dorris Place Elementary School, Irving Junior High School, and Marshall High School. His realm revolved around the bustling and pulsating streets of Chinatown, Little Tokyo, and Downtown.
Education:
Specially Appointed Professor, Shandong Jiaotong University, Jinan, Shandong, China
Master of Science, Civil Engineering, San Jose State University, San Jose, California
Bachelor of Science, Civil Engineering, University of Southern California, Los Angeles, California
Research Interests:
American Chinese Experience
Creative Interests:
Poetry
Stories
Performances
Films
Music
Poetry:
Plum Blossom Love Poetry: Between Dragon Village and Gold Mountain
Orchid Flower Love Poetry: Amorous Moods of Sensuous Passion
Kaiping Love Poems
Stories:
My Journey to the Town of Fujimi - The World of "Aoi Tori"
Return to My Native Land - Kaiping
Gim Suey Chong: His Life from Hoyping to Gum Saan
Far East Café and China-Meshi
A Nikkei Pioneer in the City of Roses: Hanhichi Wakiji
My Family Values as a Nikkei in the Southland
Sweet and Sour: Life in Chinese Family Restaurants by John Jung
Kubla Khan: A Chinatown Gateway
The Far East Café — A Proud Legacy in Little Tokyo
Gim Suey Chong: Our Quiet Man
The Yee Clan in Santa Barbara Chinatown: A Family Legacy in Gold Mountain
China Dolls by Lisa See
My Kaiping Journey: From Gold Mountain to Dragon Hill Village
OASES – A Noble Cause in Oakland Chinatown
Transcontinental Railroad in Sage Asian American Society Encyclopedia
Yellow Peril in Sage Asian American Society Encyclopedia
Chinese settlement in the "Paris of the Prairies"
Performances:
Far East Café Reunion – Memories and Nostalgia
Far East Café Program – Legacy
THE JOURNEY - Gim Suey Chong
Raymond Chong - Writer, Poet, Filmmaker
The Journey at Hong Kong Design Institute
CFCR Sex+ Talk Show - Orchid Flower Love Poetry
City of Corpus Christi Got Talent – I Will Wait For You (song)
City of Corpus Christi Got Talent – I Am Your Man (poem) and A Haunting Evening In Hong Kong (song)
Films:
Gim Suey Chong and The Far East Café
A TV – Kaiping Diaolou
ITV Television Asian Insights – Raymond Chong
ITV Television Cantonese Time – Plum Blossom Love Poetry
ITV Television Cantonese Time – Orchid Flower Love Poetry
ITV Television Mandarin Time – Gim Suey Chong
ITV Life Program – Story of Raymond Chong
Chinese Railroad Workers in North America Project at Stanford University
ITV Television Cantonese Time – Raymond Chong with Joseph Cassanova & Amour Mystique
Kaiping Television - RETURN TO MY HALYCON KAIPING
Music:
Joseph Cassanova and Amour Mystique: Village of Dragon Hill - A Mystical Journey In Passion concept album - 8 love songs
Licenses & Registrations:
Professional Engineer, Texas and California (P.E.)
Professional Engineer, Saskatchewan (P.Eng.)
Professional Traffic Operations Engineer (PTOE)
Professional Transportation Planner (PTP)
Professional Certifications:
Sustainable Transportation Professional Credential: Greenroads, 2014 (pending)
Sustainable Urban Mobility in Developing Countries Certificate: unitar, 2011
Strategic Leadership Certificate: American Management Association, 2005
Project Management for Transportation Professionals Certificate
California State University, Sacramento, 2005
ITS Systems Certificate, Consortium for ITS Training and Education: University of Maryland, 2003
Technical Papers:
Livable Centers in Greater Houston Region - Planning Tools to Measure Benefits paper, January 2012
Houston's City Mobility Planning Process: Implementing Context Sensitive Solutions paper, January 2010
Access Management Standards and Traffic Impact Analysis Guidelines for the City of Houston paper (unpublished), October 2009
The Technical Challenges of Implement a Spread Spectrum Radio Communication Network with an Advanced Traffic Management System paper, June 2004
What's Wrong with a Wireless Spread Spectrum Network for Traffic Management Systems: Challenges in Solano County, California paper, April 2004
Adaptive Traffic Signal System for Cupertino, California paper, April 2003
Integration of an Advanced Traffic Management System with PASSER-IV in Cupertino, California paper, August 2002
National Intelligent Transportation Systems Standards: Tools for a Simplified Approach to Conformance paper, August 2002
Development and Deployment of Intelligent Transportation Systems: A Successful Model in Silicon Valley paper, May 2002
McClellan Road School Zone Safety Improvements – Cupertino, California paper, 2002
A Cooperative Implementation of an Advanced Traffic Management System paper, June 2000